PRS artist Ryan Phillips and Story of the Year are celebrating the release of their first full-length album since 2010, Wolves, today. Produced by Aaron Sprinkle (Anberlin, New Found Glory, Acceptance) and mixed by Tom Lord-Alge & J Hall, this album has already garnered incredible praise from outlets like Billboard, Nylon, Fuse, AXS and Alternative Press.
Fans are just as excited, which was proven when the band's Pledge Music goal was hit in under 72 hours. Wolves is available today on Spotify, Apple Music, iTunes and Pledge Music.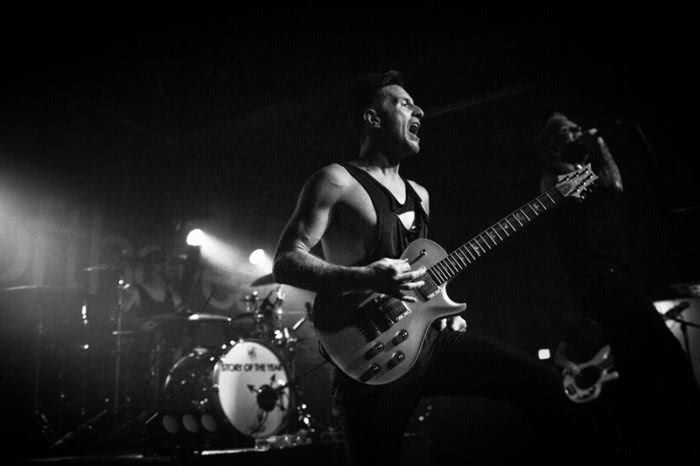 On the release of this highly anticipated album, Guitarist Ryan Phillips shares "I haven't been this excited about Story of the Year in our entire career, which is saying something considering we've been a band for 15 years. Wolves is the result of turning years of fear, uncertainty, and anxiety into art. It was tough. We didn't know if we would ever have another record, but the gift of that mindset is a collection of honest, organic songs written strictly for us - not for radio, press, or even fans- it was written purely out of passion, no one made us do it. That's a beautiful thing."
For an in-depth interview on each track from singer Dan Marsala, fans can head over to Fuse, who called Wolves "their [Story of the Year's] most personal record thus far."
On the recently released single "I Swear I'm Okay," Billboard shared that the band "expands their sonic palette with vintage synthesizers and electric drums, successfully transitioning the sound and fury of their past into the modern alternative rock arena." Complementing this praise, Alternative Press premiered the track "Bang Bang," calling it a "sure-fire crowd-pleaser" and continued on by saying "it's the perfect way of reminding fans why they fell in love with the band in the first place."
In celebration of this release, Story of the Year will be hosting Album Release Parties in Chicago and St Louis early next year. Fans will get to hear some of these new tracks live for the first time along with their favorite hit songs they have been singing along to for the past 17 years to hit songs like "Until The Day I Die," "Anthem of our Dying Day," "Take Me Back," "Wake Up" and more. For more details on these special shows and for news about future dates in 2018, please head to www.storyoftheyear.net/.
Story of the Year is Dan Marsala: Vocals, Ryan Phillips: Guitars and Computers, Josh Wills: Drums, Philip "Moon" Sneed: Bass and Vocals. They have previously released five studio albums—Page Avenue, In the Wake of Determination, The Black Swan, The Constant and 10 Years and Counting: An acoustic reimaging of Page Avenue.
—
Check out the single "Bang Bang" below!