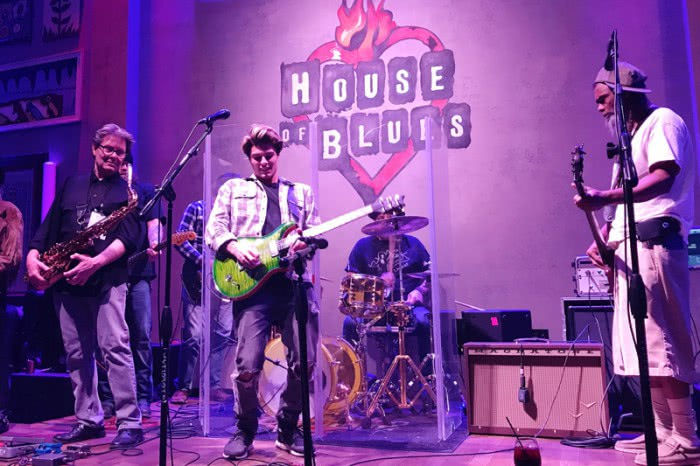 ineteen year-old, Jon Dretto, performed at the House of Blues, Anaheim California, Friday, January 26 and Saturday, January 27, during the NAMM show. NAMM is the National Association of Music Merchants show and is held every year in Anaheim, California where hundreds of manufacturers and suppliers display their products.
Scott Page (Pink Floyd, Sueprtramp, Toto) is putting together the music at House of Blues during NAMM and Jon is honored that Scott has asked him to perform with some of the best musicians in the business. Scott is Jon's mentor, coach and supporter, helping him take his music career to a higher level.
Jon started guitar at age eight and beginning in the summer of 2010, at age twelve, he began playing in Upstate, New York area jams. He soon found he could hold his own with the "big boys" and as word got around, he became a frequent guest with several Rochester and Buffalo area bands. Jon is now considered to be one of the best young players in Upstate, New York.
In 2012, Jon won a contest in Syracuse and was asked to perform At NASCAR at The Glen, in Watkins Glen, New York, in front of fifteen thousand race fans. He calls it the best night of his life. As a result, he was signed as an Artist by Paul Reed Smith Guitars, one of the premiere American guitar manufacturers, in 2013. He was also signed by Ernie Ball Strings.
Jon has performed at a number of New York State blues festivals, including four straight years at the Niagara Falls Blues Festival, countless club dates throughout New York, B.B. King's Blues Club and the Boogie Bar in Nashville, plus clubs in Washington, D.C. He has traveled Canada extensively, including several performances in Calgary and a performance at Rogers Centre in Toronto, for the 100th Grey Cup. The Grey Cup is the Canadian equivalent of the American Super Bowl.
Jon is currently a Music Performance Major at a Rochester, New York area college and performs with his Band and Duo evenings and weekends.